5 Observations Moving From a Large City to a Small Town
Posted by Laura 

Recently I moved from Denver, Colorado to Portland, Maine. I decided to leave behind my semi-big-city ideals and settle for a simpler life amongst more rural peoples who naturally held better concepts of relaxation and old-tyme entertainment. But while there's very little to hate about the town, I find myself plagued by new annoyances that I never anticipated.
You might say, but Laura, Portland is the largest city in Maine! Right, but it's just barely the size of the small suburb of Denver I grew up in and rivals the size of some back woods Virginian towns. You can drive completely across it in under 20 minutes (5 minutes highway).  Despite the convenience of locale, most of these annoyances have to do with the fact that the town is a popular retirement destination…

1. A new, more aggravating kind of traffic….

During rush hour in Denver, CO, it would take 45 minutes to drive a mile long stretch of 1-25 directly through the city. Several of the lanes became right-turn only lanes and despite having driven that road God-knows-how-many-times and the two miles of preparatory signage, everyone always gets to the very end and jerks their wheel in a frantic panic, cutting off two lanes of traffic to avoid premature exit. And it was always either a mini-van or a Toyota Camry, always.

Every goddamn time.

I attribute most of my drinking and smoking problems to the traffic in Denver during rush hour. Between the assholes trying to dodge lanes and the endless stretch of parking lot on the highway between you and the leftover Chinese food waiting for you at home, it's a wonder it didn't take longer than an hour for my stress levels to come down after I returned home. Thus, this stretch of highway was some kind of complicated puzzle for the less logically sharp and everyone who knew what was going on could only helplessly sit in their cars and yell obscenities.

I thought moving to Portland, Maine, would eliminate my traffic woes but as it turns out, "traffic" here is possibly more aggravating for a variety of reasons…

-All of the roads are old and consist of approximately one lane.
These roads were created back when the town was getting on its feet, and they're surrounded by historical property and old graveyards, so expanding them is out of the question. This means that if you're stuck behind someone slow, you're pretty much stuck tailing them until your destination.

-There's a school zone every 1/2 mile.
In Denver, school zones are kind of a free-for-all where you quickly scan for a cop before flooring through it at regular speed (10 miles per hour over the posted speed.) Here, it's a mandatory 15 mph, which I didn't even know my car could do.
That's something between the speed of walking down an aisle at the liquor store and the speed of crawling to the toilet at 2 in the morning. The school zones here are also heavily policed, and they're not complete without an elderly cross-walk do-gooder feebly helping the children across the street and taking their sweet-ass time.


Like this only the kid isn't black. If there are black people here, they're scared to come out and I don't blame them.

Getting the oxygen tank over that cavernous crack in the road can be a challenge, luckily you can figure that out while holding up a big stop sign and getting children safely to their destination. No running, or even brisk walking, don't want to trip or anything. In the meantime, I'm goddamn late for work.

-Elderly people out for a drive.
Need I say more? Only you can't pass them. Why the hell anyone over 70 would be ready at 7 in the morning and be driving anywhere at all is just a mystery to me.
 
Red hat club brunch starts in an hour and is at least 3 miles across town, don't want to be late. 
-Middle-aged women in Minivans out for a drive.
This is pretty much your typical family town. After dropping the kids off, Martha is certainly in no goddamn hurry to get to her knitting circle or coffee club or drop off those library books.

-Oil tankers.
I don't really have any good theories as to why these are always blocking the road early in the morning, but they are. Maybe not leave right at the time everyone is trying to get to work?

-An accident here literally shuts down the whole road.
Hell, even the presence of a cop visible on the side is enough to make everyone slam on their brakes for no reason at all.

Combine this with drawbridge traffic and it's a veritable hellscape of bullshit just to drive 4 miles.

2. Recycling just somehow got more complicated…

I thought Denver was into recycling, but boy, was I apparently mistaken. In Denver we just piled our beer cans and beer bottles and paper into a large bin in front of our home. It was simple enough. Here everything has to be separated, but not into any kind of category that makes sense.

Let me directly quote the "bins" visible from the college computer I'm typing this at…
-Trash
-Waste
-Recyclable bottles
-Perishable items
-Paper goods, bottles, cans
-Newspaper

Nothing is more embarrassing than standing there with my garbage staring at these bins with confusion as everyone else mindlessly separates their items. I SWEAR three of those bins are the same thing. In fact, two of them have the same "helpful" icons on them.

My landlord is also picky about this. We're supposed to check the bottles and paper goods to see if she can take them to the grocery store and get 5 cents back for them. Even if we drank 3 beers a piece a day, you wouldn't have enough for $2 worth of a return within a week. Nevertheless, it's important to her that we do this. We could just put them in the bin to be recycled, but she needs to carry all the nasty bottles and paper goods to the grocery store for maybe a $1 rebate.
There was ONE can bank in Denver. I collected cans for months expecting to at least be able to fill my gas tank and didn't even leave with $5. You would think the more you complicate these things, the less people will want to deal with it; yet, here it's like figuring out the recycling and lugging it all for penny rebates at the grocery store is a popular past time with the elderly.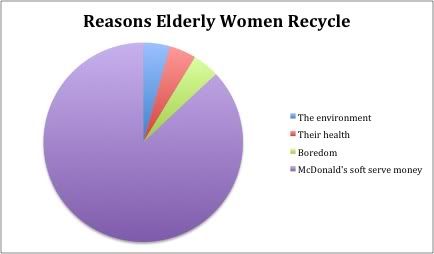 3. The veins of every New Englander run thick with pastries, Tim Hortons, and Dunkin' Donuts…
Telling your friend "I'm at the end/corner/street with the Dunkin' Donuts/pastry shop" likely describes 5 different locations within a 1/4 mile radius. There are so many donut and coffee shops up here, you can get lost on your way to the bathroom at night in the dark and suddenly find yourself ordering an egg sandwich and small coffee in a well-lit lobby while some zit-faced high schooler chews her gum at you.
And don't expect to go to any of these places and have an order done correctly or with any level of promptness. People here move slow. I'm not saying I used to live in NYC or anything, but the breakfast joints of downtown Denver at least knew how to get it in gear when they needed to not spend 15 minutes preparing a small coffee and toasted bagel.

4. I realize just how convenient and simple large corporate retail stores are…
Local stores are great. You're supporting a local family and helping the local economy, until, well….you actually need something, fast.

I have to hand it to Maine, they've stayed local for the most part. Portland doesn't even have a Wal-Mart and the only location with anything corporate is the one mall they have and some stores surrounding it. Everything in the downtown area is local. It's cute and serene with cobblestone streets and everything you need should be right there, except it isn't.
I never realized just how much I depended on large corporate stores for my shopping. Trying to find an item at the minimal selection of stores in this town is a challenge. Borders, the only major book retailer in the town, just went out of business.
You don't realize just how much you depended on something until it's gone. I tell myself, "Oh, let's just go grab that new study guide or magazine or book I've been wanting." But then I remember that there isn't really a place I can go where I know it'll be. Sure, there are local book stores, and I could get online and call all of them, but I used to just be able to waltz into a Borders or Barnes and Noble and there it'd be, ready for me to grab.

In addition, local isn't always better. Sure, there is some local fare around here that is just fantastic. Like family-owned diners and knick-knack/hipster stores, but only if you're in the market for hipster bullshit. I'd say you have about a 50/50 chance of walking into a place and it being run by some grumpy old couple or hard-up struggling family.
I've been into several places and just received straight-up glares, like they can smell the foreign on me. They want your damn order already so stop staring at the menu. I suppose you also want a side with that, bub? Give me a half hour or so, Uncle Jimmy just walked in and I haven't talked to him in years.



"Yeah, we tried finding, what was it, 'Battleship Galaxy all seasons' or whatever in our inventory for you, but we're not having any luck, we could order it, but it might take a couple of weeks. You could also try that internet thing."

Or, I could drive the extra distance out of town and find a Barnes and Noble… choices, choices.

5. People will buy anything you tell them to buy. Especially elderly people and especially elderly people day-shopping or fresh off a cruise ship parked in the harbor…

I have the special treat of working retail in this town and comparing these customers to those from the lower-class suburb of Denver where I worked in the past. From the minimal amount of time I've been peddling premium teas (I won't say from where but it's in the mall) I've noticed one simple thing…
People will drop unbelievable amounts of money on total bullshit.

In Denver, every other customer haggled about the difference of a couple of cents or whether or not their coupon was scanned or what the price rang up as compared to what was on the shelf. They didn't want add-ons, they didn't want extra services. They'd already researched it, goddammit, they knew how to spend their money wisely.

Here, people will literally buy whatever I shove in their hands. I'm a new employee so my sales skills aren't exactly to par yet, but I topped the sales in the store just because I pushed people to see how much they would actually get.
It was like a fun game. They never once stopped me or questioned my authority in the matter. And guess what, they were all women over the age of 50 (many of whom were wearing touristy garb they had purchased already) who spent upwards of $300, for tea.
I'm not sure if it's the population of old-money families, the large bored retirement community, the elderly cruise-ship tourists, or the combination of all three, but peddling bullshit up here is unbelievably easy. I even sold 3 figures worth of tea to younger women as well, with boyfriends or husbands in tow.



"What was that tea you liked honey? The black chai? Oh, no, that was just terrible, we'll take the Tummyberry Pineapple Pop, you like pineapple pop, right honey?"

Old money, elderly people and boredom make for the perfect storm of local fuckery. Take some notes, Boulder, CO.